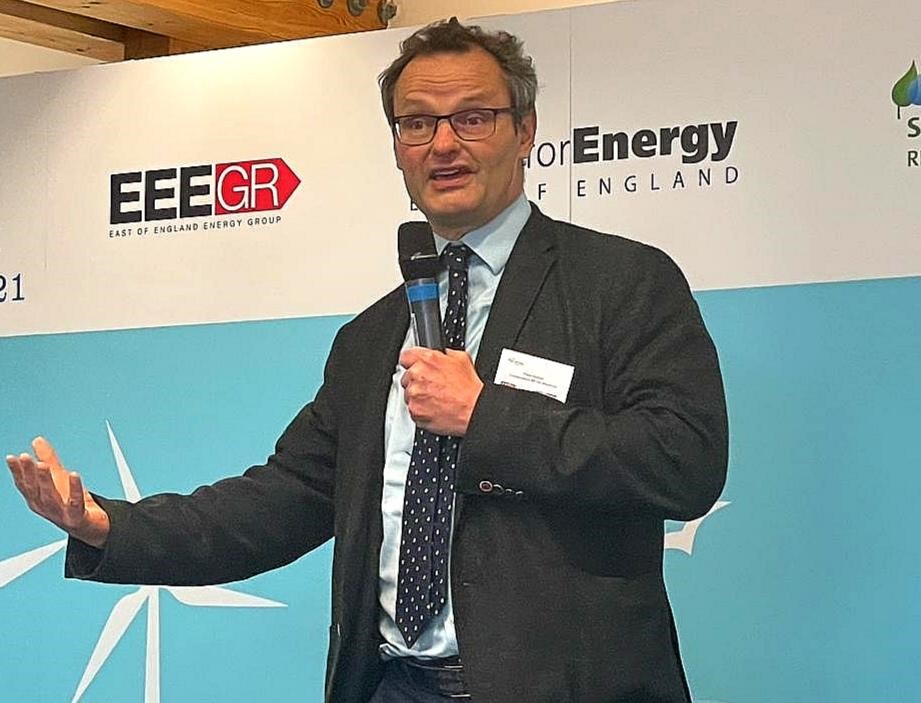 On the same day that world leaders started to arrive in Glasgow for COP26, Peter Aldous, MP for Waveney, addressed delegates at EEEGR's Wind Week 2021 East of England event on Friday (29th October) hosted at OrbisEnergy in Lowestoft.
He said: "Offshore wind has come a long way in the last ten years, and the next decade can bring enormous benefits to our area. East Anglia has the opportunity to be a global exemplar with just under half of the UK's installed offshore wind capacity coming from our region already, showcasing what we can do in the East of England for the transition to net-zero including our contribution to coastal communities in terms of skills and the levelling up agenda.

"East Anglia can become the engine house of the UK with its unique regional offer with over 30% of the UK's future electricity coming from East Anglia."

EEEGR and its platinum sponsor ScottishPower Renewables were joined by big brand sponsors Equinor, Orsted, Vattenfall, Associated British Ports (ABP) and GENERATE, in their support for the region to come together to celebrate all things wind energy.

Part of UK Wind Week, run by national energy trade association, RenewableUK, over 100 delegates gathered at Lowestoft's OrbisEnergy building, a hub for companies working in renewable energy, to attend EEEGR's first face-to-face conference in almost two years.

Hosted by EEEGR's Executive Director of External Affairs and Policy, Simon Gray the overwhelming message from the event was the need for industry to work collectively to consider integrated ways of bringing the various energy sectors together.

Already providing almost 50% of the country's installed offshore wind capacity, the region is set to nearly double that with the build of several new offshore wind farms and extensions off the Norfolk and Suffolk coast in the next decade, keeping the region on track to contribute to the Government target of net-zero by 2050 and 40GW by 2030.

Martin Dronfield, EEEGR Executive Chair and Commercial Director of Opergy, a Clean Growth Consultancy, said: "Our region is home to the largest cluster of operating wind farms in the world and we will continue to dominate the offshore wind landscape in years to come with planned projects off our coast.

"In the next 30 years we forecast that approximately £60 billion will be spent in the sector on projects off the coast of East Anglia. These are exciting times for offshore wind, however there remains uncertainty on the future of some projects which could be detrimental to our region if they don't go ahead, both in terms of the effect on the local supply chain and the skills landscape."

EEEGR have partnered with all major wind farm developers to go some way to address this with the launch of an East of England Offshore Wind Cluster Forum. A group that brings together businesses, local authorities and skills providers to give the region a united powerful voice, the need of which has never been so crucial if 'in flight' projects are to get the green light.

Those projects include ScottishPower Renewables' East Anglia Hub, Vattenfall's Norfolk Boreas and Norfolk Vanguard, Equinor's Sheringham Shoal and Dudgeon extensions and Orsted's Hornsea Two and Hornsea Three, with representatives from each developer attending the conference to update delegates on their progress.

It wasn't all about offshore wind though. Johnathan Reynolds, Managing. Director at Opergy, gave delegates food for thought with his presentation on integrated energy and made it clear that we need a strong integrated energy and net zero infrastructure strategy in order to deliver net zero with solid local community leadership and ownership. He also spoke of the need to join up local skills development activities, including focusing on diversity, youth education, adult upskilling and supply chain capacity building programmes.

Anne Haase, Business Development Director at Petrofac agreed and spoke about how the company are focussed on creating long term opportunities for the people they employ. They are actively building their new energy services business across the UK and are creating local opportunities for existing and new personnel having recognised the regional vulnerability in terms of skills gaps.

Delegates were able to get a real insight into the importance of engaging with students and young people, an essential to guarantee a future industry talent and skills pipeline. Scholars from the ECITB and students on the ScottishPower Renewables Masters programme at the University of East Anglia (UEA), gave inspiring presentations and spoke about how industry engagement has played a key part in the reason for them choosing the industry for their future. Esmee Thornton, Siemens Gamesa Deputy Site Manager and former ScottishPower Renewables Masters student backed this up by thanking the industry for investing in her and encouraging businesses to continue to support young people into industry.

Martin Dronfield closed the conference, giving thanks to attendees, speakers and sponsors and reiterated the fact that clean energy has the potential to generate untold capacity in our region so we must work together to secure its future.

Other presentations included Renewable UK's Chief Executive Dan McGrail on the importance of onshore wind and the launch of their onshore wind prospectus and Andy Reay, Group Head of Commercial Offshore Wind at ABP, who gave conference attendees an update of the important Lowestoft Eastern Energy Facility (LEEF) which will bring major upgrades to the marine facilities of the town to ensure it meets the current and future needs of the offshore wind industry.
Sourced by; Furthermore Marketing.
For further information please contact Marie Hoskins-Davies, Account Manager at Furthermore Marketing.
Email: marie@furthermoremarketing.co.uk
Tel: 07872 922522