Lowestoft-based OrbisEnergy welcome Tyneside company Mactech Engineering & Inspection to their "hub for clean energy" as businesses across the region consider returning to the office for the first time since last March.

With the East positioned at the heart of the race to net zero, the innovation and incubation facility says that the provision of first-class office accommodation, networking space, meeting rooms and conference facilities is still a top priority for many businesses – especially those involved in the growing energy sector.

"East Anglia is an energy powerhouse, providing the UK with low-carbon power and leading the transition to net zero. Our clean growth region has the highest concentration of operational offshore wind in the UK, with the largest pipeline of new projects either consented or in planning. There's also significant opportunities in existing and new build nuclear, our Southern North Sea gas infrastructure, onshore renewables and the technologies needed to build an integrated energy system." said Ian Pease, Business Development Manager at OrbisEnergy.

"A key component as to why the region is leading the way in terms of decarbonisation is collaboration, and we have found that many of our tenants value physical office space, including access to our unrivalled conference facilities and networking support, in order to facilitate this vital face-to-face communication," he continued.

"Coupled with our prime location on Suffolk's coast, there's prime opportunity to foster relationships and promote innovation within the clean energy industry – quite often it is not possible to adequately recreate this in a virtual scenario."

OrbisEnergy, which are owned by Suffolk County Council and managed by Vertas Group Limited, also offer virtual packages and find that both their virtual and physical tenants attach great value to accessing tangible office, conference and meeting spaces.

Building and Tenant Manager, Angela Grey, said: "For a lot of businesses, the last year of virtual working has only reinforced the value of collaborative nature that is borne from physical working spaces."

"At OrbisEnergy, we are pleased to offer a variety of facilities to meet this demand and nurture the opportunity for businesses to work together."

According to the Office for National Statistics, almost 70% of all industries will return to traditional working when permitted, with nearly 10% citing 'reduced communication' as a concern.

It comes after Prime Minister Boris Johnson revealed that he was confident workers would return to the traditional way of working as restrictions continue to ease over the coming months.

OrbisEnergy's new tenant, Mactech Engineering & Inspection, add their Lowestoft office to their pre-existing Tyneside and South West locations.

Mactech Deputy Managing Director Simon Thorne said: "We are committed to supporting the Government's net-zero obligations, and with our extensive involvement with new nuclear and on and offshore renewables, having a primary office in East Anglia is key to our strategic objectives."

"We are delighted to be taking up residence at the OrbisEnergy location, and look forward to having opportunities supporting the local area and community."

Mactech Engineering & Inspection
www.mactech.co.uk

Mactech Engineering & Inspection is a specialist supplier of sub-contract personnel and services for Construction, Engineering and Non-Destructive Testing (NDT) inspection services to the energy sector. We focus extensively on Nuclear, On & Offshore Renewables, Oil & Gas, Power and Marine.

We have been operating since 1986 and provided specialist personnel worldwide.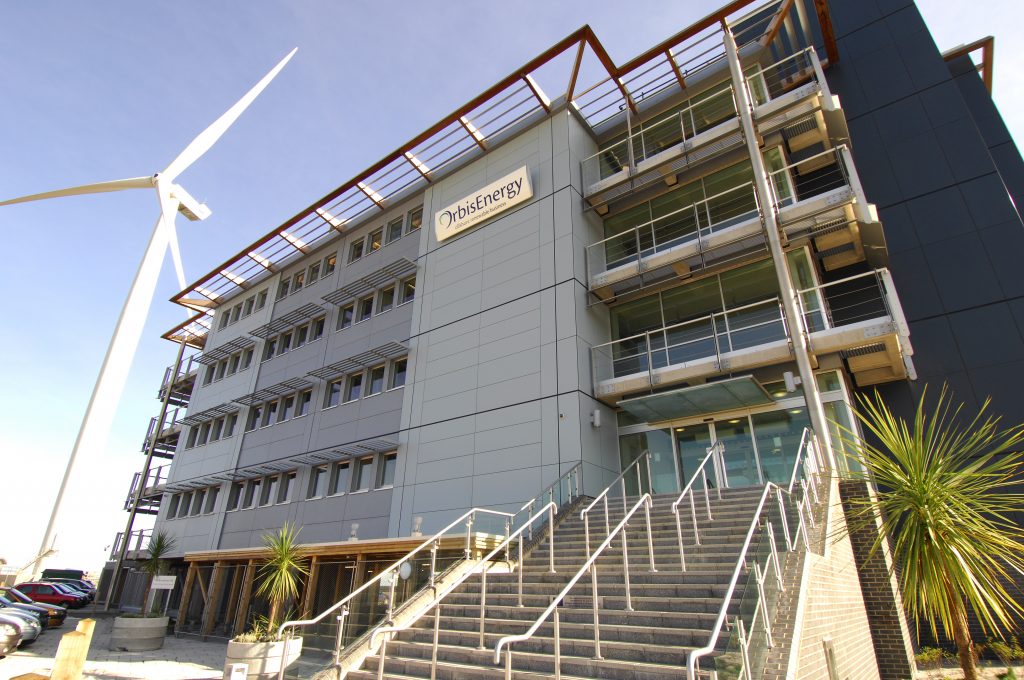 OrbisEnergy
www.OrbisEnergy.co.uk

OrbisEnergy is the hub for clean energy, a premier location for ambitious companies looking to harness the massive opportunities in offshore renewables and clean energy technologies unfolding in the southern North Sea and Norfolk and Suffolk.

They provide first-class office accommodation, meeting rooms and conference facilities as well as offering their tenants, visitors and investors access to an unrivalled clean energy business network.

OrbisEnergy offers a full range of tenancy options for businesses – from virtual tenancies to offices of up to 100sqm.

OrbisEnergy is owned by Suffolk County Council and managed by Vertas Group Limited.
Image credit: www.chpv.co.uk