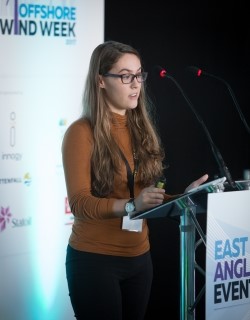 Young people need more opportunities to investigate potential career paths in the fast-expanding offshore wind industry, a sixth former told more than 200 industry delegates.
A level student Evie Read spoke passionately to energy professionals at an Offshore Wind Week event in Lowestoft about how primary school age children with an interest in science, technology, engineering and maths subjects (STEM) needed to be told more about the exciting industry.
Aspiring geophysicist Evie spent four weeks in the summer working with the Galloper Offshore Wind Farm team, part of innogy, with the East Coast Energy Internship Programme.
She was one of 20 local interns working with energy companies that took part in the ground-breaking scheme, sponsored by the Ogden Trust.
She told the East of England Energy Group's (EEEGR) event how she designed a booklet to engage seven to 11-year-olds with the industry. Her work was printed and distributed by innogy
"I wanted to introduce the subject of offshore wind to younger age children in simple terms."
Evie, who is studying maths chemistry and physics at East Norfolk Sixth Form College and has five university offers to study geophysics, said the programme had offered her more opportunities than she had ever imagined.
And she implored the education system to offer more to young people like her, listed as gifted and talented in STEM subjects at a young age.
"There was no curriculum to push young people towards the opportunities that exist out there.
"I was gifted and talented in maths and science. I was offered philosophy and Latin. There were no extension opportunities in the subjects I was interested in."
To access the right opportunities for her talent, interest and career choices, she opted to leave her high school in Great Yarmouth to travel 1.5 hours a day to the University Technical College (UTC) in Norwich. "
"I am so glad I completed the internship and would encourage anyone who has the same opportunity to do it. "
During her internship – based at the Great Yarmouth offices of TMS Media, which works with the innogy communciations team on the Galloper Wind Farm project – Evie visited the turbine pre-assembly base at Galloper and the construction base at Lowestoft.
She attended the East of England Energy Group (EEEGR) Awards event and will be a speaker at EEEGR's Skills for Energy event at the International Aviation Academy in Norwich on November 29.
Delegates took away one of Evie's leaflets in their delegate bags – and a plea from East Coast Energy Internship leader John Best for help to increase partner companies to 30 next year.
"Twenty-five interns working for 20 days is the equivalent of £50,000 back into the industry," he said.
Joshua Sturman, a student at Lowestoft Sixth Form College, told delegates about his work with Nautilus Associates on a project investigating desalination of sea water by offshore wind.
"I spoke to the Oil & Gas Authority, the University of East Anglia, water companies and Siemens about the results of my research, which produced huge numbers, and got feedback from the companies, which was all included in a report for Nautilus. And I was delighted by the comments I received about my work which really boosted my confidence."
The scheme started with five internships last year, expanded to 20 this year and plans to grow to 30 next year.
ENDS
Photo captions:
Photos: TMS Media
East Coast Energy Internship Programme intern Evie Read, an A level student at East Norfolk Sixth Form College, tells 200 offshore wind professionals how children and young people need more opportunities to find out about careers in the industry.
Download high resolution image here
East Coast Energy Internship Programme interns Evie Read, second right, and Joshua Sturman, second left, with Nicky Casey, far right, student services manager at East Norfolk sixth Form College, and Judith Masters, director of teaching and learning at Lowestoft Sixth Form College.
Download high resolution image here
Produced and distributed on behalf of EEEGR by TMS Media.
Contacts:
Sophie Wilson, EEEGR – sophie.wilson@eeegr.com 01493 412190
Rachel Moore, TMS Media – rachel@tms-media.co.uk 01493 662929