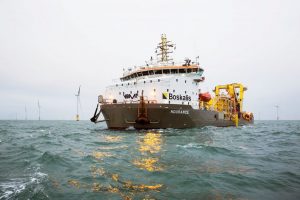 While its mother company Boskalis reported a revenue decline of 20% for 2016, OrbisEnergy tenant VBMS achieved an 80% increase in revenue from offshore wind projects including Sandbank, Nordergründe, Rampion, Galloper, Egmond, Aberdeen,Borssele and Blyth.
The offshore cable-laying company, which generates 90% of its revenue from the offshore wind sector, already has a well-filled order book for the next few years and is actively eyeing further projects.
"Offshore wind projects have a very long lead time," said VBMS Managing Director Arno van Poppel. "We are already tendering for projects that will commence in 2024."
Aside from the abovementioned projects, VBMS has also been awarded contracts for Horns Rev 3, Kriegers Flak Combined Grid Solution (CGS), East Anglia ONE, and EnBW Hohe See.
In addition to the cable installation, VBMS is increasingly taking responsibility for the entire process, in other words a 'grid-to-grid' connection, Boskalis pointed out, and is also active in other growth markets, including the installation of interconnectors
"It will take years to develop reliable methods for storing wind energy," Van Poppel said. "In the meantime the European electricity grids are being connected, enabling countries to supply each other power when the wind is blowing in one country but not in the other. As a result renewable energy is becoming increasingly reliable."
In the oil and gas market, VBMS' activities include the installation and maintenance of seabed infrastructure, such as power cables, umbilicals and flexible flowlines. A new development concerns the electricity supply to existing offshore oil and gas platforms.
VBMS became a wholly-owned subsidiary of Boskalis on 1 July 2016, as the Dutch company acquired the maritime and offshore wind energy-related activities of VolkerWessels in a transaction worth EUR 180 million.
For VBMS, the takeover brings numerous benefits, according to Van Poppel: "It gives us better access to an international network of clients and will enable us to carry on growing in both the renewables and oil and gas markets."
"We need critical mass and a solid financial position in order to bring our services and total solutions to the market in a sustainable way and to mitigate risks. Being able to use Boskalis' longstanding knowledge and expertise and have access to its broad array of services and assets will enable us to further enhance the services we provide," he said. "For example, for Borssele I and II we teamed up with our colleagues at Boskalis to develop an appropriate and integrated approach. Without them we would not have won this tender."
Sourced: Offshorewind.biz