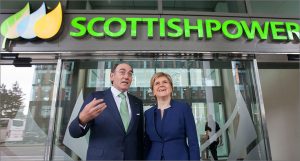 OrbisEnergy tenant ScottishPower Sets Up Offshore Wind Hub in New Glasgow HQ | Offshore Wind
ScottishPower has officially opened its new headquarters in Glasgow in the presence of Scotland's First Minister, Nicola Sturgeon.
The company's new HQ has brought together 1,650 employees previously spread across a number of separate sites in Scotland, enabling better collaboration on future technologies, ScottishPower said.
"This building houses more than 1600 employees, and ScottishPower has committed to spending £4 million every day to support innovation and the transition to clean energy," Nicola Sturgeon, First Minister of Scotland, said.
"This level of ambition is an exemplar to our world-leading energy sector. I wish ScottishPower every success in the future as they help us realise our long-term plan for Scotland's energy future, which includes a proposal to meet half of our energy needs from renewables by 2030."
The St Vincent Street building will also act as the company's global base for offshore wind.
Glasgow-based experts will work to deliver major projects not only in the UK, but also in the United States, Germany and France, the company said.
Ignacio Galán, Chairman of ScottishPower, said: "For the first time, we have our expert teams under one roof with a shared purpose to harness low carbon power and deliver digital transformation. Along with our skilled workforce, our new HQ will also be an exciting hub delivering our planned £8bn investment in new projects across the UK and beyond. Together we will provide the systems that power the future."
Sourced by : offshorewind.biz