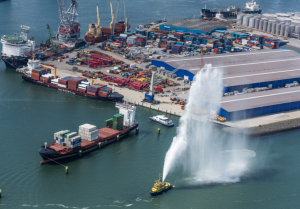 OrbisEnergy tenant Rhenus Logistics has officially opened its new quay and has added a new harbour mobile crane at the Deep Sea Terminal on the Maasvlakte in the Port of Rotterdam.
The new 275-meter-long quay is on the east side and is an addition to the 500 meter quay that Rhenus already has on the south side of the terminal.
Seaway Heavy Lifting has been using the terminal as a homebase since March 2014.
The new capacity has resolved the issue of vessels working on offshore related projects staying on the quay for a long time and thus reducing space for other ships.
Peter van der Steen, Managing Director of Rhenus Logistics B.V. says: "The new 'Oostkade' gives us the opportunity to operate both the offshore vessels of Seaway Heavy Lifting and the Nirint Shipping liner service on Cuba and the Caribbean simultaneously. That's why we also bought a fourth harbour mobile crane. "
Previously, Rhenus invested in the construction of two warehouses measuring ​​54,000 square meters. The total area of ​​the former ro/ro terminal is 210,000 square meters
Sourced by: offshorewind.biz