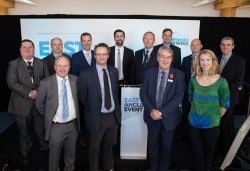 Possible further expansion of Peel Ports Great Yarmouth to accommodate the fast-growing offshore wind business off the east coast was announced at an event celebrating the industry's success.
Port Director Richard Goffin revealed that Peel Ports are developing a plan for extra facilities to an audience of 200 industry delegates at the Offshore Wind Event, organised by the East of England Energy Group (EEEGR) at OrbisEnergy, Lowestoft, to mark Offshore Wind Week 2017.
Mr Goffin revealed that a site to the south west corner of the Outer Harbour had been earmarked for heavy berth facilities, quay facilities, a centre for skills and training, office space and car-parking.
Overlooking the Southern North Sea where billions of pounds is being invested, industry giants innogy, ScottishPower Renewables, Vattenfall and Statoil gave updates on their projects.
The new port site will be close to the pre-assembly site where wind turbines for the Galloper Wind Farm are being built by Siemens Gamesa with Great Yarmouth-based 3sun Group and where the 102 7MW Siemens turbines for East Anglia ONE will be pieced together.
Multi-billion pounds of projects off the East of England are playing a leading role in the drive to power 20% of the UK's energy by offshore wind by 2020 with an ultimate target of 50%.
Waveney MP Peter Aldous praised the industry for proving its doubters wrong by driving down costs dramatically and achieving a strike price of £57.50 in this year's subsidy auction, Contracts for Difference, almost halving the prices since the 2015 auction.
"But the offshore wind industry cannot rest on its laurels or other low-carbons technologies will overtake it. It needs to work even harder and keep innovating to make cost to the consumer lower."
An EEEGR initiative is investigating how to cut costs even more by looking at how offshore services can be shared with the Oil & Gas sector, including supply vessels and helicopters, like in Dutch waters.
Rob Hastings, who is leading the SNS Rejuvenation Special Interest Group examining how Oil & Gas and Offshore Wind could work together more closely said: "If we can make cost reduction from 10-20% from both sides of these industries, we have created a massive win."
In multi-operator contracts in Dutch waters, a vessel going to a gas installation with spare capacity asked other operators if they wanted to share.
"We could do it here but it needs a commercial framework. It could happen with helicopters too," Mr Hastings said.
The group was also looking at construction, installation and maintenance.
"There's not much difference between a wind turbine and a NUI (Normally Unattended Installation). They are about the same weight and size, they need the same skills for putting them together and maintaining them.
"We can use our 40-odd year history of oil & gas and incorporate in design of the bigger wind turbines. Our focus will be about common design standards and common skills and encourage that be shared across the two sectors."
The group would also investigate gas to wire, he said. "Why not convert gas to power at the source of production rather than sending it miles around and use the exporter of the power from the offshore wind farm to the shore and connect to the very expensive offshore transmission?"
Chris Anderson, of 4C Offshore, a consultancy and market research organisation for the offshore energy market, said the demand for offshore wind farms would continue to grow fast, especially with the rise of electric vehicles, with more than 40 countries with ambitions to develop offshore wind.
'We have 6GW under construction outside the UK and a further 3.2GW being planned with 90 GW in the pipeline."
There were some "really exciting projects coming forward" in 2019 in the most competitive Contracts for Difference auction yet, he said.
ENDS
Photo caption:
Photo: TMS Media
Richard Goffin, port director for Peel Ports Great Yarmouth, announced plans to develop a further part of the Outer Harbour for heavy berth facilities, quay facilities, a centre for skills and training, office at the Est of England Energy Group's (EEEGR) Offshore Wind Week event.
Download high-resolution image
Offshore wind leaders who spoke at EEEGR's Offshore Wind Week event. From left to right: Andrew Whilding, relationship manager for engineering, University of East Anglia, Andy Paine, head of offshore wind development UK, Vattenfall, John Best, Best Proactive and the East Coast Energy Internship Programme, Richard Sandford, director of offshore wind investment and asset management, innogy SE, Peter Aldous, Waveney MP, Richard Goffin, port director, Peel Ports, Great Yarmouth, Rob Hastings, Indigo Power, Simon Gray, CEO EEEGR, Julian Munson, head of Enterprise Zone and innovation, New Anglia Local Enterprise Partnership (LEP), Ian Pease, director of commercial development, East Coast College, Hannah Mary Goodlad, stakeholder and environment manager for the Dudgeon Windfarms and Hywind Scotland, Statoil and Jonathan Mills, general manager, A&P Great Yarmouth.
Download high-resolution image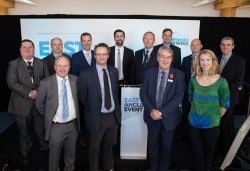 Produced and distributed on behalf of the East of England Energy Group (EEEGR) by TMS Media.
Contacts: Sophie Wilson – sophie.wilson@eeegr.com, 01493 412190
Rachel Moore – Rachel@tms-media.co.uk, 01493 662929.