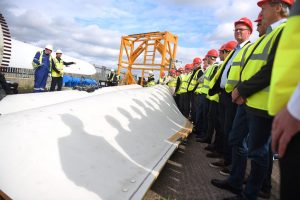 Offshore Renewable Energy (ORE) Catapult gathered offshore wind farm developers, turbine blade manufacturers and researchers in Blyth this week to address key challenges in the test and certification process for offshore wind turbine blades.
ORE Catapult, in partnership with Danish blade strengthening specialists Bladena, hosted a two-day conference at its National Renewable Energy Centre in Blyth, where developers and manufacturers met with world-leading research institutions to discuss the latest challenges in wind turbine blade testing, validation and certification and the latest research and innovations being developed to tackle them.
Specific topics for discussion included blade testing and type certification requirements that go beyond existing standards and technical requirements around blade design, manufacturing, materials, testing, repair and operations.
E.ON's blade specialist Birgit Junker said: "This wind turbine owner network is of great importance to us as we are able to have technical discussions with a number of like-minded colleagues and experts (test, innovation and research centres). The importance of increasing the requirements for full-scale testing is essential to reduce the risk of blade damages – especially as the size of the blades increases."
Bladena's Chief Technical Officer, Find Mølholt Jensen, said: "It is interesting to see the latest developments that European test centres have achieved in full-scale testing with combined loading. This way of testing is possible today statically but is a challenge dynamically for very large blades. With the knowledge that has been shared at this seminar, I believe that it is possible to promote this process in the future."
ORE Catapult's Test Facilities Director Tony Quinn said: "The seminar has helped to give a better understanding of the issues affecting blade performance and explored the opportunity for improved design and more representative testing – developments that are important in further reducing the levelised cost of energy from offshore wind."
Sourced: Offshorewind.biz