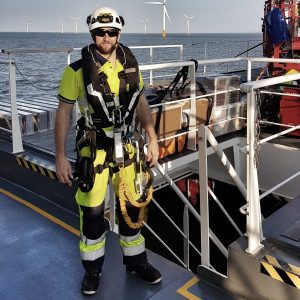 A pioneering concept that provides high-level medical cover for oil & gas and windfarm workers has been deployed off the East Anglian coast for the first time.
SSI Energy supplies personnel who are not only highly qualified HSE Offshore Medics but who are often trained technicians working as part of a maintenance team. The company says its staff are potential life-savers when it comes to medical emergencies offshore.
SSI Energy now has a HSE Offshore Medic permanently based on the Bibby Wavemaster 1 supply vessel providing support for a large wind farm currently being developed off the Suffolk coast.
Duncan Higham, SSI Energy managing director, said: "Although our medics work around the world, it's the first time we've placed someone on a wind farm development off East Anglia. This is particularly exciting for us as it's one of the fastest-growing wind farm regions in the world and it shows that developers and companies in their supply chain are taking the welfare of employees very seriously."
The concept of combining the roles of paramedic and technician was brought to the offshore wind sector thanks to a £50,000 grant from the SCORE (Supply Chain Innovation for Offshore Renewable Energy) programme, which promotes new ideas and efficiencies in offshore renewables.
SSI Energy provides fully-equipped paramedic technicians who can tackle medical emergencies such as strokes, heart and asthma attacks and anaphylactic shock, as well as the full range of traumatic emergencies including open fractures and falls from height.
Offshore Medics, who have to be paramedics, military combat medics or nurses before going on the HSE Offshore Medic course, train for four years and offer a higher-grade service to that provided by technicians who undergo only the two-day GWO (Global Wind Organisation) first aid course. Mr Higham said: "Our service enables patients and casualties to get expert help in the first "golden hour" which is vital to boosting chances of recovery."
The HSE Offshore Medic technician currently working aboard the Bibby Wavemaster 1 is former SAS Captain, Chris Hayle, who sees an average of one person a day for ailments like strains, sea sickness and general health issues. Their in-depth training means they can prescribe stronger pain relief and other treatments that first aiders can't offer, to enable technicians to get back to work sooner. In addition to his medical responsibilities he has also been working as a crew member, responsible for inductions and CTV coordination on the Wavemaster.
Sickness or injury outside the expertise of a basic first aider might result in them calling for a patient – and possibly his or her team – to be evacuated, bringing work to a halt. Mr Higham said his medics were better qualified to assess the seriousness of a condition and carry out treatment on site. Ideally, one medic technician would be placed with each team of around 24 to 36 workers, added.
Stephen Bolton, operations director for Bibby Marine Services, said: "The feedback we've had from the team has been very positive. People working in a challenging environment appreciate the reassurance that's provided by an experienced paramedic who can respond quickly and professionally at a moment's notice. What SSI Energy provides is a major step forward in offshore medical cover."
SSI Energy currently has paramedics working on onshore wind farms in Poland, Ireland, Scotland and Wales, offshore in UK waters and at oil and gas companies in West and North Africa, Australia and the Middle East.
The SCORE grant is helping the company to expand by employing a new business development manager. Jonathan Walker, who has nine years' experience in similar work with United Health Care (previously Frontier Medics), will serve the Southern North Sea offshore wind industry through an office in Great Yarmouth or Lowestoft.
Johnathan Reynolds, of SCORE, based at OrbisEnergy, Lowestoft, said: "This is an important initiative, which we were delighted to be able to support. We are especially pleased to see the model now being introduced off the East Anglian coast, where some of the world's biggest wind farms are being built.
"The energy industry is rightly focused on safety and levels of care for its employees, and serious accidents and incidents are a rarity. But if someone falls dangerously ill miles out to see, the treatment they receive on the spot can be a matter of life or death."
SCORE offers grants to help companies across England to develop new products, processes and ideas – from patenting a product to exploring concepts that offer new ways of solving problems and driving efficiency in offshore renewables.
Grants are available to start-up and established companies for up to 40% of eligible costs or £50,000, whichever is the lower, with a minimum grant of £2,500. The fund can be accessed across England, although applicants must show their work will bring economic benefit to the east of England.
The programme is part-funded by the European Regional Development Fund (ERDF) and is open to companies with fewer than 250 employees and an annual turnover of less than 50 million euros.
The funding is designed to help companies in a wide range of areas, including research and development, collaboration with universities and research bodies, securing patents, acquiring specialist equipment or services and investigating the commercial viability of processes and technologies.
Companies can also access up to 12 hours of subsidised business support from regional enterprise agency Nwes to help grow and develop their business.
SCORE is delivered by Nwes in partnership with energy industry experts, Nautilus Associates and the national Offshore Renewable Energy Catapult centre.
To find out more about SCORE grants and eligibility, visit
www.orbisenergy.co.uk/funding-grants/score-grant-funding/