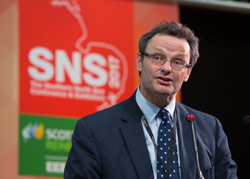 Energy supply chain businesses will be able to discuss the future of the energy industry and government support with the three MPs representing the all-energy East of England coast at a special event next week.
Peter Aldous, Brandon Lewis and Dr Therese Coffey, MPs for Waveney, Great Yarmouth and Suffolk Coastal, are asking for "feedback from the shop floor" to take back to Westminster from the people doing business every day in the energy sector.
Opportunities for growth will be among the topics covered in a morning of presentations, panel discussions and question and answers about the threats and potential for the sector in the East of England in an event staged by the East of England Energy Group (EEEGR) at Ipswich Town Football Club next Friday.
Mr Aldous chairs the British Offshore Oil and Gas Industry All Party Parliamentary Group (APPG). The other two MPs hold ministerial posts so have the "ear of government", said Mr Aldous. Brandon Lewis is Minister of State for Policing and the Fire Services and Dr Coffey is a minister in the Department for Environment, Food and Rural Affairs.
EEEGR chief executive Simon Gray said it would be a unique forum for members to convey their messages to Westminster.
The MPs represented constituencies with strategic assets across ports, wind farms, the SNS gas basin and nuclear facilities in the region and played a central role in stimulating and promoting the energy sector in their own constituencies and at Westminster, he said.
"This is an opportunity to hear what each of them does within their respective roles for the energy sector, understand how they have been representing the interests of the energy sector in their constituencies and tell them how they can help your business."
Mr Aldous said the MPs were keen for the event to be a "two-way" process for businesses to make themselves heard.
"We want to hear from the shop floor" from business in the region at the forefront of "keeping the lights on," and decarbonisation of the energy supply, he said.
Strengthening the supply chain and skills provision in the region was a priority, he added.
"We need to be looking to focus on what the area needs to make the most of these opportunities for our local area.
"To make sure we retain as much of the benefits and as much of the money that is going to be generated by the enormous construction projects in our area."
Infrastructure in and out of the region was a priority, he said.
The event will be at Portman Road, on Friday (March 17) from 8am to 12 noon.
To book, visit www.eeegr.com/events/eeegrs-mps-event-1649.html