F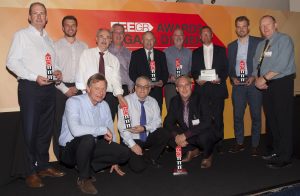 inalists in a set of prestigious energy industry awards are gearing up to "pitch" their ideas to a Dragon's Den style panel of judges.
The annual East of England Energy Group (EEEGR) awards will be held next Thursday September 14th at Dunston Hall near Norwich.
The finalists have been announced and energy industry representatives are being invited along to see the presentations, which showcase excellence across the sector.
EEEGR Chief Executive Simon Gray said: "This year's EEEGR awards feature a wide range of company enterprise and initiative, which reflects the great work taking place in the energy industry and its supply chain.
"It is also encouraging to welcome some new names to the list, and we look forward to seeing the ideas pitched to the judges."
The awards aim to reflect the quality, diversity, and the innovation of companies in the sector, and highlight the importance of the East of England's contribution to the nation's energy economy.
Finalists are:
Innovation award (sponsored by Galloper)
ATAM Group Limited – Asset Intelligence Software
Oranje-Nassau Energie UK Ltd – ERRV Mooring Buoy
Late Life & Decommissioning SIG – Value to industry award:
BiSN – Wel-Lok M2M
Peterson (United Kingdom) Ltd – UK SNS Centre of Excellence
Offshore Wind SIG – Best regional contribution to local content award
James Fisher Marine Services – East of England Renewables Centre
JDR Cable Systems Ltd – 66kv inter-array cable
Skills for Energy Award (Vattenfall)
Best Proactive, Ogden Trust & Royal Academy of Engineering – East Coast Energy Internship
Proserv – Proserv Academy
SNS Rejuvenation-Collaboration award (Oil & Gas Authority)
ASCO Uk Ltd – Shared R&D warehouse facility
Oranje- Nassau Energie – ERRV Mooring Buoy
Trade Apprentice of the year (ECITB)
Aquaterra Energy Ltd – Edward Mattocks
Pruce Newman Pipework Ltd – Daniel Lark
Winners will be chosen by a combined panel and audience vote during an afternoon of presentations at Dunston Hall from 2.30pm to 5.30pm at a free-to-attend session. To book a place, register via the events section of the EEEGR website www.eeegr.com
This year's awards have been made by the engineering team at the Lowestoft campus of East Coast College, and the ScottishPower Renewables award for outstanding contribution made by the Nexus Engineering Training Centre.
Great Yarmouth based Gee-Force Hydraulics are sponsoring a drinks reception at the sold-out evening awards dinner, where the awards will be presented.