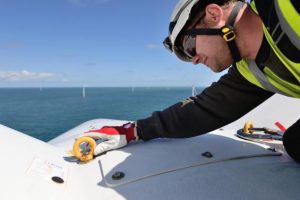 Great Yarmouth-based energy company 3sun Group has taken on more than 100 new wind turbine technicians in the latest recruitment drive, some of which are joining the Galloper offshore wind farm team.
The 40-strong Galloper team is building the 56 6MW Siemens turbines for the wind farm at the purpose-built pre-assembly yard at Great Yarmouth port.
A 120m crane stands ready to lift them to sailaway to the site off Suffolk next month where they will be installed on to the 336MW wind farm's foundations.
More than 1,500 hopefuls sent their CVs to Great Yarmouth-based 3sun when it announced its search for 100 new technicians January, many from oil & gas workers looking for a new career.
After completing training at the 3sun Academy, they are now joining teams across the UK and Europe, with some earmarked for the "Made in Great Yarmouth" project at Great Yarmouth's Outer Harbour.
The recruitment campaign will service GBP 6 million of new and existing offshore wind farm contracts in the UK and across the world, 3sun said.
Sourced: Offshorewind.biz